Happy New Years Eve! And a New Frosting Recipe
In case you haven't noticed, I haven't made many cupcakes recently. I don't know if I just got burnt out or what, but I've been making more bars and cookies recently. Bars are especially low maintenance which makes them so much easier to make than cupcakes. But cupcakes will always hold a special place in my heart. And I'll continue to make them.
I actually made these cupcakes earlier in the year for a weekend getaway to a friend's family lake house. I thought these photos with the sprinkles were perfectly festive for New Years Eve! Hubby and I are off ringing in the new year in Las Vegas with a big group of friends!
Since it's our first trip to Vegas, I'm sure we'll have a bunch of fun and plenty of stories to share when we get home. But for now, lets talk more about cupcakes. For these cupcakes, I used a classic chocolate cupcake recipe but I decided to try a new frosting recipe.
I used the new neon colored cupcake liners that have been in the grocery store this year. I love them because in general, the Wilton cupcake liners that come in a bag at stores like Michaels are cute, but they always seem to be a bit off in size. The cupcake liners that I order online are great – vibrant colors and the perfect size – but they're a bit pricey. By default, I mostly use the classic pastel colored liners that come in the round plastic container, but recently, they've had these neon colored ones that are great. I can't get enough of them!
This frosting has a great bakery-frosting flavor. It's very sweet and everyone really enjoyed it. It had a decent amount of stiffness that was perfect for piping onto cupcakes as well. I will definitely be making this frosting again.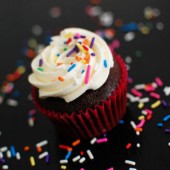 Dawn's Buttercream
Ingredients:
1 cup Crisco
1 pound powdered sugar
1 teaspoon almond extract
2 tablespoons water
2 tablespoons meringue powder
Directions:
Cream shortening, water and flavoring.
Add powdered sugar and meringue powder. Mix until blended.
Add additional water until you reach the desired consistency. If you want really white icing be sure to use a clear extract. Vanilla extract will make the icing off white.