Shrimp with Cilantro Pesto
Hubby and I have been enjoying our new kitchen so much but sometimes we get a bit ambitious… I pick exciting new recipes I want to try and then it's 8:30 before we sit down to eat. Yea, that just doesn't sit well in my stomach. So we've been trying to save those more intricate recipes for the weekends and focus on easy to make weeknight meals. This is our most recent go-to weeknight meal. We've been eating it about once a week because it takes no time at all.
The first thing you need for this meal is some frozen pesto. Obviously freshly made pesto or pesto from a jar would also work, but I've started freezing pesto, as I've seen so many other food bloggers do. See, our fridge came with these little mini ice cube trays. They're somewhat useless for making ice cubes, so I use them for pesto. The first time I froze pesto was after we made the salmon with cilantro pesto. Now, any time a recipe calls for fresh herbs, I take whatever is left and whip up pesto to freeze.
The next thing you need is some shrimp. We like to buy the two pound bag of shell-on uncooked frozen shrimp when it's on sale. Just thaw 1/2 the bag and remove the shells. I like to sprinkle the shrimp with some Old Bay prior to throwing them on the griddle that came with our new stove.
Once the shrimp is cooked, throw it in a bowl with a few of your pesto cubes. I like to use 4-6 of my mini pesto cubes for a pound of shrimp. Now cover the bowl with saran wrap and shake it so that the heat from the shrimp defrosts the pesto and the pesto distributes itself on all of the shrimp (a ziplock bag would work for this too, although I've never tried that).
And voila, in no time at all, dinner is served. I like to steam some veggies or throw together a quick salad to serve with this shrimp.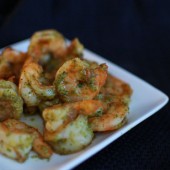 Shrimp with Cilantro Pesto
Ingredients:
1 lb uncooked shrimp, peeled
Old Bay seasoning
frozen pesto cubes
Directions:
Sprinkle Old Bay on the peeled shrimp and cook shrimp in a pan, on the grill, basically any way you like.
Put cooked shrimp into a bowl with a few pesto cubes and cover. Shake to distribute pesto. Enjoy!